CURRICULUM
At New U Universe, our curriculum is based on idea that each child is a unique individual. Our focus is on meeting each child's development, social, emotional, intellectual, and educational needs. We provide developmentally appropriate programs that focus on process of learning and help children enjoy successful experiences.
Classrooms are arranged to offer challenging play and learning choices at a wide range of developmental levels. Learning centers allow children the opportunity to explore, problem-solve, investigate, work together as a team, and meet with success. Children problem- solves, investigate, work together as a team, and meet with success. Children are exposed to whole group work, small groups, and individual instruction each day.
Our thematic-based curriculum focuses on reading, writing, language, math, science, social studies, art, music, and physical fitness activities. Teachers and administrators spend time listening to and talking with children, helping kids reflect on their daily learning, The positive interactions between teachers and students encourage the development of emotional, linguistic, and social skills, leading to a strong sense of self and self-esteem. With a range of child-centered activities and a warm, save, and nurturing environment, children have every opportunity to have fun while learning.
We celebrate the cultural diversity of New Universe children and families, and we encourage multicultural learning through respect, understanding, and appreciation.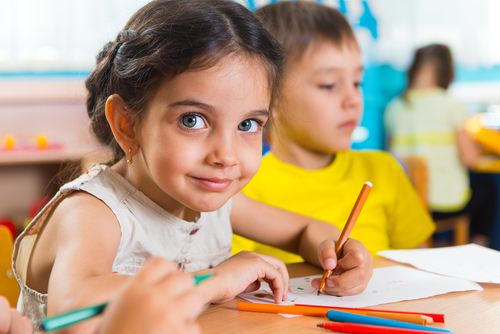 TODDLERS
At this stage, toddlers need to be in an environment that cultivates their natural precociousness and energy – a place that allows them to explore and have fun.
Each classroom is filled with an array of learning materials that cultivate their fine and gross-motor skills, their receptive and expressive language, and satiate their intellectual curiosity, all while building positive relationships with peers and adults.
We embrace our busy little learners and focus channeling their energy into stimulating curriculum that help them blossom both intellectually, and socially.
Our teachers focus the age-specific child care programs around personal and shared expenses our toddlers every day.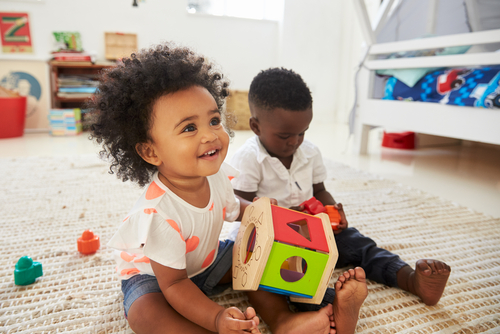 EARLY PRE-SCHOOL
At this age children are becoming problem solvers, explorers and even inventors. They learn about the world around them as they ask questions, put things together, and take things apart.
Our early preschool programs give them the guidance and the tools they need to explore and learn within a stimulating and secure environment.
Curriculum of our early preschool programs focuses on developing critical-thinking skills and stimulating your child's curiosity. Preschoolers love exploring their world trough active investigation and hands on experiences.
Our preschool programs consist of activities that engage and activate your child's prior knowledge.
Our classrooms feature learning centers equipped with inviting and developmentally appropriate materials.
There is even a preschool reading center equipped with books of different genres, books on audio, big books, writing materials, puppet theater and comfy furniture, which immerse your child in an active investigation of literature from a variety of authors and topics.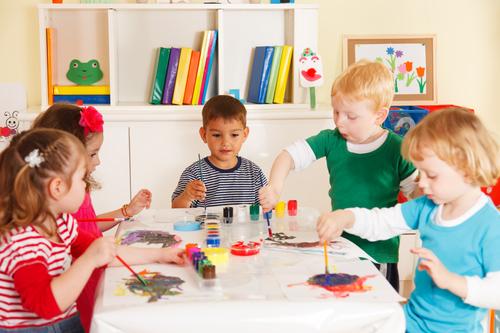 PRE-K PROGRAM
One of our goals in our Pre-K program classrooms is to prepare your child for a successful transition into Kindergarten.
Developing critical-thinking skills and stimulating intellectual curiosity ensure that our students will be prepared to enter kindergarten in the fall.
Our Pre-K program increases the focus on math, science, language and social studies, giving students the opportunity to hit the ground running in elementary school.
Our classrooms feature learning centers that are equipped with stimulating, developmentally appropriate learning materials.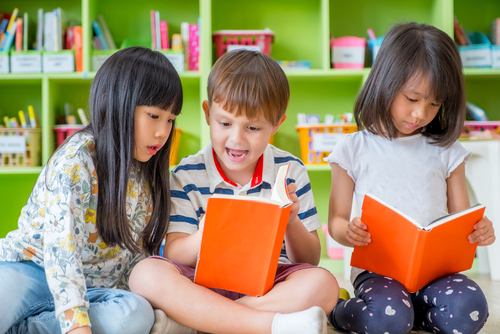 29 Eva Ave, Staten Island NY 10306
Telephone: (917) 407-8052
Fax: (718) 701-1188
Email: [email protected]
School Hours: M-F: 7:30am - 6:30pm
Mills Ave Location
110 Mills Ave
Staten Island,  NY 10305
(917) 407-8052

Albourne Ave Location
3 Albourne Ave East
Staten Island, NY 10312
(917) 407-8052